Edval Daily: Roll over into a new year
This document is intended to provide a guide for setting up Daily and your School Information System (SIS) for a new year.


If your school is new to Edval Daily and did not have previous year data then there is no need of rollover and instead you would need to follow the new setup guide. Please
click here
to follow the instruction on how to setup the Daily for the fist time.
There are three main steps:

Edval - sync your new timetable with Daily

Daily – roll over settings from the previous year into the new one.

Daily - configure Daily for the new year
To begin we must perform a sync to Daily. Your timetable does not have to be completed for this purpose.

You will not be able to continue without syncing to Daily first.

You can re-sync as many times as you need to update Daily's timetable data.
2. Daily - Roll over Settings from the Previous Year
The new year's instance of Daily is created when you log into Daily with your new year's webcode and rollover the settings from the previous year.
If you do not have your new year's webcode yet, please submit a ticket to edval-license@tes.com with the subject, "New Year Webcode".
When you first log into Daily with your new webcode, you will notice that the Daily menu is missing from the blue Menu Bar. It will appear once you have completed the rollover step.
To roll over the settings from the previous year:

Navigate to Admin > Settings



Click on 'Roll over 20XX Settings'


20XX is only a placeholder, the relevant year will display normally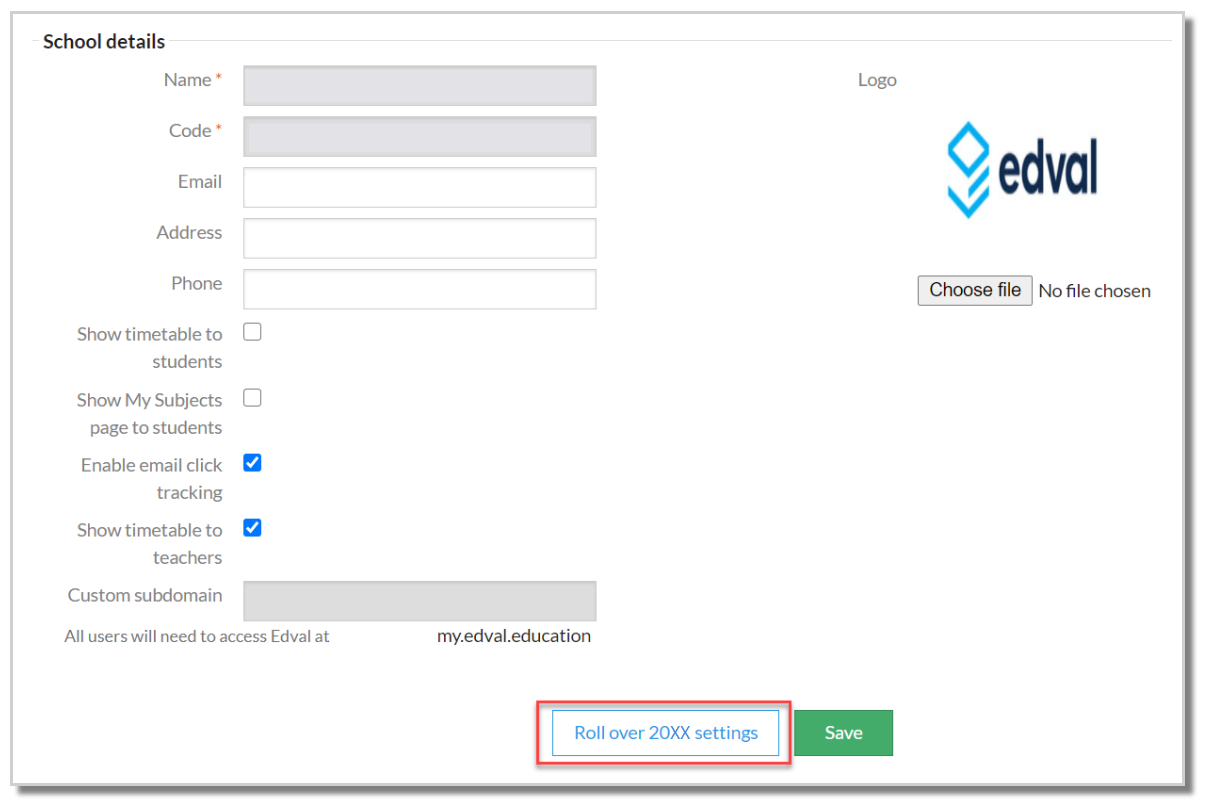 Choose which data and settings to roll over.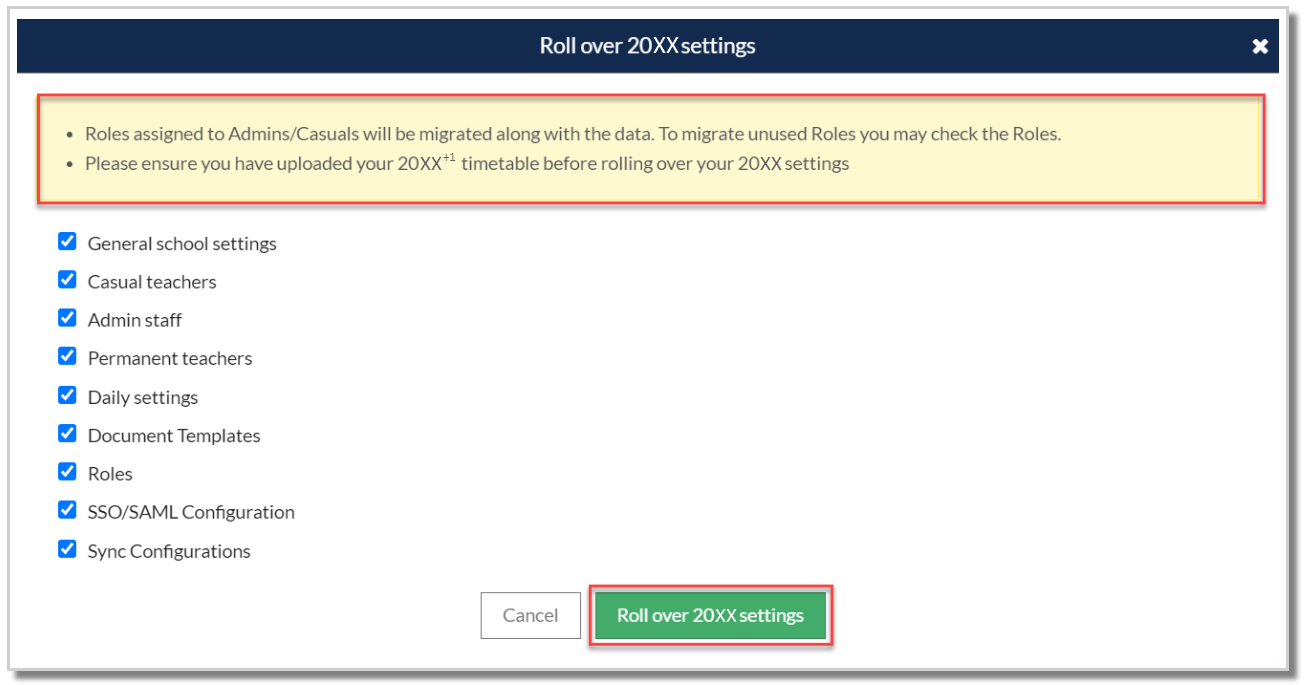 Unless your school has been onboarded with SSO (Single Sign On) then please disregard the 'SSO/SAML Configuration' tick box.

You must select 'Save' after you return to the Admin > Settings page
3. Daily – Configure the Settings for the new year



Once the timetable has been uploaded to Daily, and the rollover has been completed, the Daily Organiser can configure the settings for the coming year.

Log in with your new year's webcode

Complete the Date Mapping and save.
Refer to the Knowledge Base article on

Date mapping

Confirm all settings on all other tabs - Cover options, Weights and Misc. Documentation on these settings can be found

here

.

Perform some checks to ensure that the cyclical timetable data has come across correctly, for example, look up a teacher's timetable, check a class list in Daily > Reports > Class list


The rest of this document only pertains to SSO schools:
4. Daily – configure SSO (Single Sign-On) settings



Go to Admin > Single Sign On and make sure you have configured your settings.
If you are not on-boarded with SSO and you would like to be, please click here for our FAQ Document
Related Articles

Edval Daily - Year End FAQs

Cloud new year setup FAQs: ​ Edval Daily: Q: I have received my webcode for the new year for Edval Daily but do not see the 'Daily' tab when I login, what do I do? A: You will need to roll over Edval Daily for the new year. Q: How do I roll over ...

FAQ Edval Daily

Edval Daily - Frequently Asked Questions Getting Started What internet browser does Edval Daily prefer? Edval recommends that Edval Daily is best accessed via the Chrome browser. I am a customer who is interested in the Edval Daily web version. I am ...

Edval Daily: Absence Reasons

Navigate to Daily > Settings > Absence reasons. This tab allows you to create new absence reasons, modify or delete existing reasons or merge official codes by the region selected in the timetable file. Once added or imported, reasons will roll over ...

Edval Daily: Date Mapping

The Edval cloud system must have the timetable cycle days mapped correctly for the program to operate, so it will know which 'day' to show for any date, e.g. is it MonA or MonB? Term time, holidays, weekends, rotatio start dates, the timetable cycle ...

Logging in to Edval's Cloud Products

Edval's Cloud Products Edval has the following products available online for daily organisers, interviews administrators, teachers and students. Edval Daily Manage day to day variations to your cyclical timetable with Edval Daily. When changes occur, ...