Edval's Cloud Products



Edval has the following products available online for daily organisers, interviews administrators, teachers and students.
Edval Daily

Manage day to day variations to your cyclical timetable with Edval Daily. When changes occur, as they always do, Edval Daily allows you and your staff to be notified, informed, and proactive.
Edval Interviews

Smarter online scheduling, a clever algorithm with the right priorities, bringing parents and teachers together.
Edval Choice

Edval's online student portal makes capturing student selections simple. No more messy paper forms or data entry! Edval Choice is easy to use, safe and secure.
Accessing Online Products

Webcodes



Once a school has been licensed with the product they will be issued with an Administrator WebCode to login.
Email
edval-license@tes.com
if this has not yet been provided to you.
Web Address



The web address to login for Edval Daily, Edval Interviews and Edval Choice is my.edval.education
Granting Access to other Users



School administrators are issued with an admin level WebCode by Edval to access all products. The rest of the users in a school - students, teachers, casual teachers and admin staff, are issued a WebCode by school administrators through functionality within the products. Please read our documentation here on how to issue additional login access to other staff at school.
Single Sign On

If you are interested to use our single sign on functionality using SAML please refer to our documentation
here
.
Login Screen



Enter your WebCode and click on Sign in to login to the product.

Stay signed in for 30 days - You can tick this box if you would like Edval to remember you for 30 days. Your session will be remembered only if the browser's cache and cookies are not cleared. As per the tooltip, this option is not recommended when using shared computers or devices. Please keep in mind that this is different to the browser's remember password behaviour. If you choose your browser to remember the WebCode then there is no time limit and it will always remember the WebCode.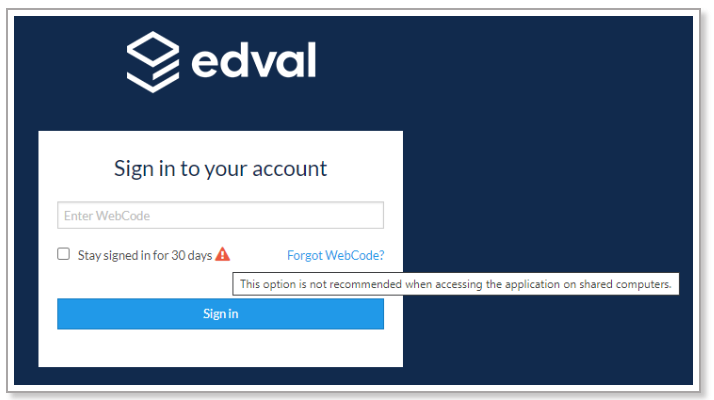 Forgotten WebCodes
If you have forgotten your WebCode please click on the 'Forgot WebCode?' link and type in your email address as shown below. The email address should be the one that is registered with your WebCode. You may be required to complete a reCAPTCHA entry, depending on the number of incorrect attempts that have been made. Click on 'Submit' to have your WebCode emailed to you.

Blocked Access



If you enter an invalid WebCode too many times, your access will be blocked for a short period to mitigate the risk of malicious attacks.

Security
It is very important that users at school save their WebCode securely. If a user forgets their WebCode is always safer to use 'Forgot WebCode' than to try multiple login attempts with an invalid WebCode. Importantly, if they feel their WebCode has been compromised, they should always contact the school administrator to regenerate a new WebCode.
To add a shortcut that takes you directly to Edval Daily, follow the steps described below:

1. Open Edval Daily within your browser

2. Click and drag the icon indicated below onto your desktop or into a folder.